#wearesandalschurch Tablet Drive
Mon Apr 27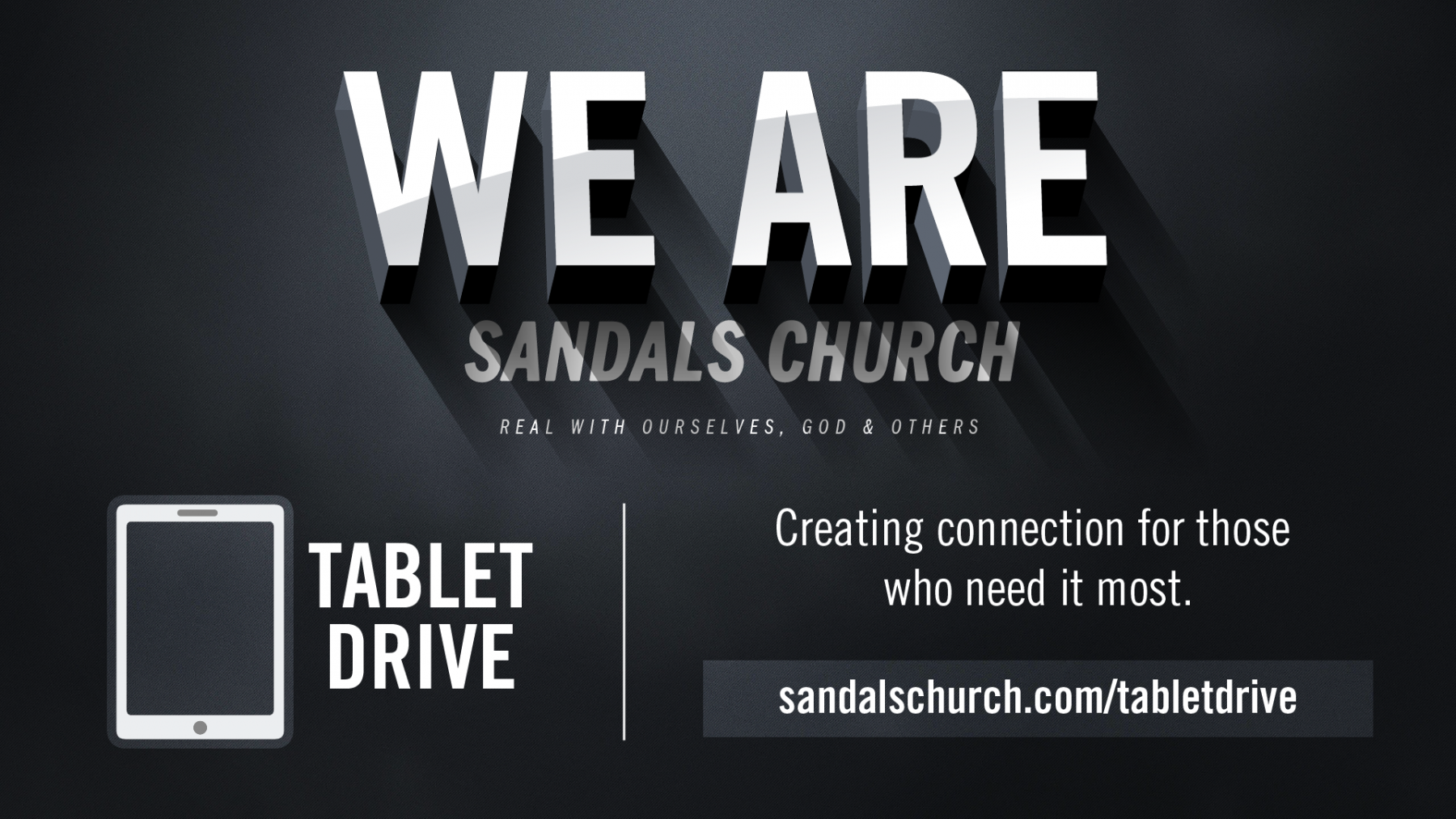 Creating Connection for Those Who Need it Most
As our Sandals Church team prayed and imagined about how to best serve our community during the COVID-19 crisis, our hearts were drawn to our senior citizen community who are experiencing unprecedented levels of isolation and loneliness because of their unique vulnerability to the coronavirus.
Because we're a church that values authenticity and relationships, we want to create connection for those who need it most. That's why we're inviting you, our Sandals Church family to join us in our #wearesandalschurch Tablet Drive project.
Project Overview
As we thought about how to address the problem of isolation that our elderly are currently experiencing, our question was, "how do we bring connection to a group that is uniquely vulnerable to infection when people are in close proximity to them?" We then began thinking – what if we could be creative and generous with digital communication as the means to helping our elderly connect with others safely?
That's where the idea of a tablet drive came from. We're a church that does our best to steward technology well to serve and reach others. As technology regularly advances into new updates and versions, many of us often have older items that still work well, but don't get used as much.
So, our Sandals Church Ministers and Digital Media Team came together and created a process to prepare and distribute used, refurbished tablets to residents of local senior living facilities. These tablets will be cleaned and set up for easy video chats for seniors so that they will be able to experience connection with the ones they love.
How You Can Help
Tablet & Gift Card Drop Off | Saturday, May 2
Tablet Donation: If you are in the Southern California or Fresno area and have some old tablet devices that are 2015 models or newer, would you consider donating them to this project? Our teams are ready and in place to take your donation, clean it and prepare it to be distributed to our local senior living facilities.
You can donate old tablets by dropping them off at your local Sandals Church campus this Saturday, May 2 from 10AM-4PM. We'll have campus teams on site ready to receive your donation.
If you have a tablet device that you would like to donate to this project, please click the link below to read our instructions for preparing your donation!
Gift Card Donation: If you do not have any tablet devices that you are able to donate, but you are interested in supporting this project, would you consider donating financially so that we can purchase more refurbished tablets? You can do this by purchasing gift cards from Amazon, Best Buy or Visa and dropping them off at your local Sandals Church campus this Saturday, May 2 from 10AM-4PM.

Thank You.
These are unique times, which means that serving others requires creativity. As a church, we want to be forward thinking and strategic so that we can serve people even in the most uncertain of times. Thank you for your support, family. We hope you'll join us in this project.