Cooking Class Date Featuring the Rustik Fork
Mon Jun 22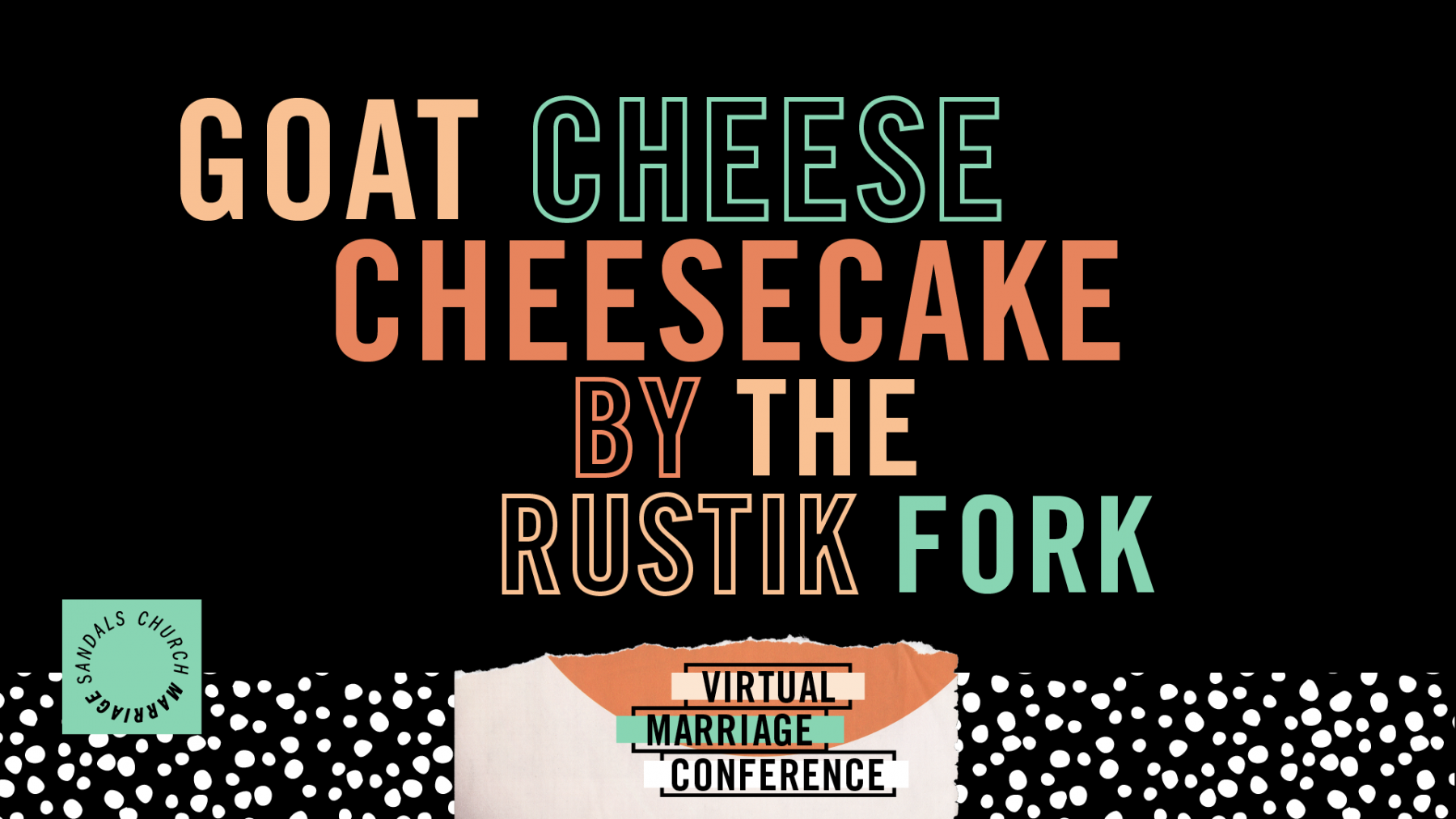 Follow along with Pastor Matt & Tammy Brown and the Owner's of The Rustik Fork as they make this Goat Cheese Cheesecake during the Virtual Marriage Conference Cooking Class Date Session!
Tune in Friday, June 26 at 8PM PST on live.sandalschurch.tv , Facebook Live or YouTube.
Recipe
Cake
1.75# Goat Cheese: Leave at room temp for 20 minutes. Mix in mixer 4-5 minutes until soft
1 cup Organic Cane Sugar: Add to mixer
¼ cup Organic Local Honey: Add to mixer
½ TBS Organic Vanilla: Add to mixer
Mix 2-3 minutes on speed 2-3, scrapping sides & bottom to incorporate
4 Local Free-Range Eggs: Mix on low speed and gradually increase to speed 5 for 2 minutes, scrapping sides.
Crust
1 Cup of Organic Flour (*Gluten Free Optional)
1 Cup of Organic Cane Sugar
1/4 Cup Organic Coconut Sugar
1/4 Cup Organic Butter Softened
1 Teaspoons Organic Cinnamon
1/2 Cup Organic Oats (*Gluten Free Optional)
2 Tablespoons Organic Walnuts: Chopped or pulse in blender
Mix all ingredients together
Build
Spray pan with cook spray
2 Scoops Crust Mix: 1 Cup. Pack down into bottom of pan about 1/4 high.
2 Scoops Cake Mix: 3/4 Pan
Wrap pan with foil and place into hotel pan. Fill hotel pan with water 3/4 high. Bake at 350 degrees for 45 minutes. Remove and let cool in fridge completely. Top with Cardamom Jelly, Blueberries & Date Syrup. Enjoy!
Steps
Cream goat cheese, sugar and honey
Add eggs and beat until smooth
Press crust into mold and fill 2 scoops into the mold
Bake in water bath for 25 minutes
Chill until set
#scvirtualrecipe Contest
On Friday night when your dessert is ready, please take a picture and share it on social media tagging @sandalschurch and using the hashtag #scvirtualdessert . Our staff will be judging the entries and doing a special giveaway to the couple with the most creative presentation!