Departure and Arrival are BOTH happening at Sandals Church San Bernardino
DROP OFF DAY- SUNDAY, JULY 11TH
NOTE: DIFFERENT GRADES GET DROPPED OFF AT DIFFERENT TIMES
HIGH SCHOOL: 9TH-12TH GRADERS
Campers are to arrive at 1:00PM at SANDALS CHURCH SAN BERNARDINO
(3701 N Sierra Way, San Bernardino, CA 92404)
*Please enter at the entrance on Parkdale Dr. *
KIDS AND MIDDLE SCHOOL: 3RD-8TH GRADERs
Campers are to arrive at 3:00PM at SANDALS CHURCH SAN BERNARDINO
(3701 N Sierra Way, San Bernardino, CA 92404)
*Please enter at the entrance on Parkdale Dr.
***More information on Departure day and the check out process can be found in the parent packet. ***
ARRIVAL DAY- FRIDAY, JULY 16TH
We will be returning to the SANDALS CHURCH SAN BERNARDINO
Kids AND Middle School Campers will arrive back at SANDALS CHURCH SAN BERNARDINO around 11:45 am
(3701 N Sierra Way, San Bernardino, CA 92404)
High School Campers will arrive back at SANDALS CHURCH SAN BERNARDINO around 2:15pm
(3701 N Sierra Way, San Bernardino, CA 92404)
***More information on Arrival day and the check out process can be found in the parent packet. ***
Summer Camp is officially FULL for 2021!
We are so excited to be taking up over 800 kids and youth to Forest Home this summer. For more information on the waitlist or summer camp 2021 feel free to email camp@sandalschurch.com.
Hey there parents!
Summer Camp is a time of excitement, challenges, outrageous fun and memorable moments for our Campers! Our goal is to provide an opportunity for your student to deepen their walk with the Lord through discipleship, Bible Study, and relationships with others. We are so excited that your student has been given the opportunity to join us this summer! Below you will find our parent packet which has all the information you will need to send your kids to summer camp, please give it a read!
Counselors!!!!
We are so excited that you are going to be partnering with us to make summer camp 2021 a reality. It was such a blast getting to meet and train with you at counselor training. If you didn't get to join us or you are looking for the packet we went over, not to worry we have it here for you! We are looking forward to spending the week with you!
Medical Form Information!
Every camper and counselor needs to have a filled out med form to go to summer this year! Please make sure you take some time to fill this out and get it back to us so your camper can have a safe and healthy time at summer camp!
Kids Campers/Counselors: move.sc/kidsmed
Youth Campers/Counselors: move.sc/youthmed
Contact us!
If you need to connect with anyone on the summer camp team, email is the best way to connect with. If you email us we will do our best to get back to you in 24-48 hours.
camp@sandalschurch.com
Camp Map!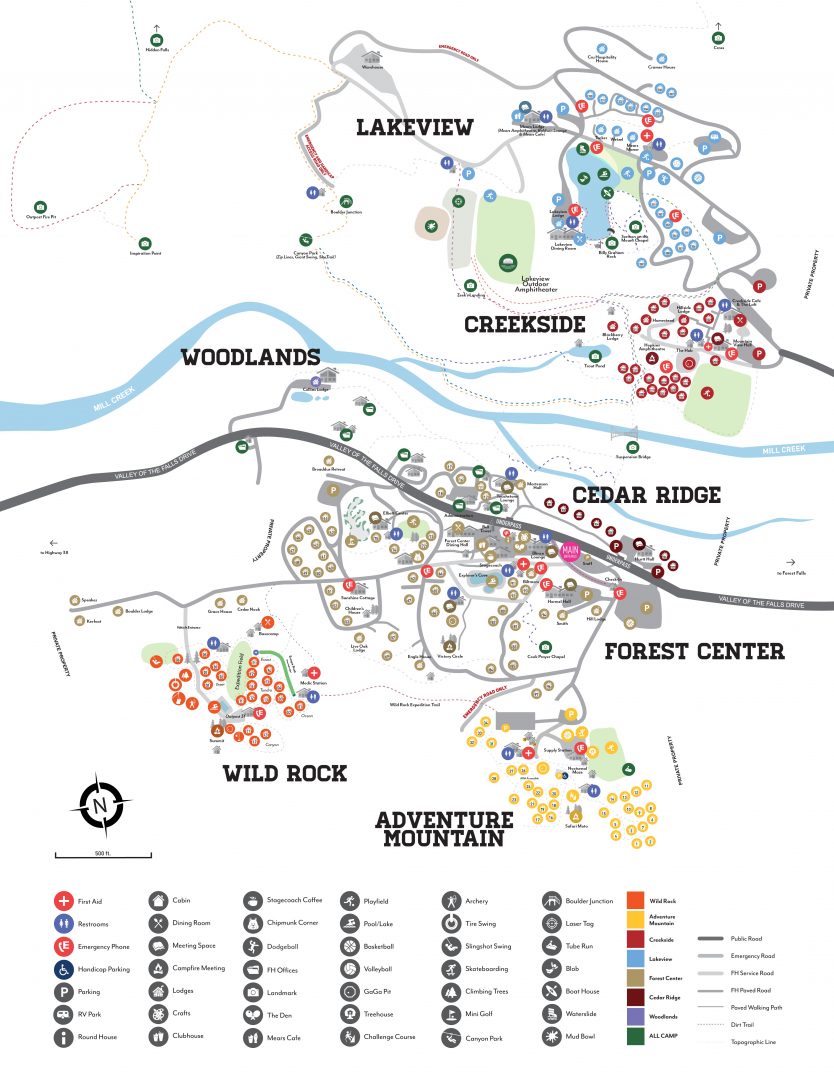 FAQ
If camp is canceled/rescheduled, every camp family will have the option to receive a FULL refund or to roll their funds over to the new date/next year of camp.
Registration opens on March 17th at 6 pm at sandalschurch.com/camp
Yes, you will receive an email confirmation after you complete your registration.
Yes, an account will automatically be created. To get to your account, also referred to as your parent dashboard, go to http://move.sc/parentportal and log in using your email address and password. You can view your payment schedule, download your statement, manage your account settings, edit/update your credit card information and make a payment.
Yes! You'll need to indicate his/her special needs when registering, and we will connect with you so we can best accommodate your child's needs while at Camp. Please complete this process as soon as possible so that we can meet and begin a relationship before Camp. 
The final balance is due June 15, 2021.
If cancellation occurs between March 17-April 17, 2021, a full refund will be issued. Any cancellations made from April 18-May 18, 2021, will receive a 50% refund.  After May 18, 2021, any cancellations will receive no refund of any kind (except for mandatory Covid-19 cancellations). All cancellations must be emailed to camp@sandalschurch.com and confirmed with an email response.
Every family is automatically enrolled in autopay at the time of registration, meaning their credit card will be charged every month according to the invoice emailed to them. Every family is notified via email a week before their credit card is charged.
We know the cost of camp can be daunting, especially if you have more than one child. We strongly encourage you to involve the whole family and especially the camper to help fundraise for Camp. This increases a sense of appreciation and ownership in their spiritual development.  Recycling, yard work, housework, and sponsor letters have all proven helpful in raising money for Camp. You can request a sample sponsorship letter from camp@sandalschurch.com that we strongly encourage you to duplicate. 
Yes! We have waiting lists for all of our Camps that are full. There is no cost to be on the waiting list. In order to add a child to the waiting list, please complete the online registration at sandalschurch.com/camp, even if the Camp is full. Please do not call or email. Should a spot open up for your child, you will receive an email immediately, offering you the position. We will wait 24 hours to hear a response from the first person on the waitlist before calling subsequent families. Once the open spot is accepted, payment and registration for the Summer Camp will be due. 
We take our committed volunteers who serve every week in Family Ministries at Sandals Church. Our volunteers make great counselors because they already have existing relationships with the students in our ministries, and they are trained on all of our safety and procedural protocols. Every counselor is background checked by Sandals Church and Forest Home.
Yes. We will do our best to accommodate your request; however, we cannot make any guarantees. Email camp@sandalschurch.com to submit these requests. 
Forest Home does not make phone services available for campers. Generally, children are not able to make or receive phone calls during camp. If there is an extreme case involving your child at camp that warrants parental contact (i.e., discipline, extreme homesickness, injury, etc.), our camp staff will contact you.
For the safety of all campers, Forest Home DOES NOT allow visits by anyone other than church staff during camp. Early arrival or pick-up of campers by parents is permitted in certain cases, and they must be arranged in advance with church and camp staff. 
If you have a serious family emergency and need to contact your child while at camp, you may contact the Forest Home Roundhouse at 909-389-2300 and they can direct you to us. 
 Yes, there is always a full-time nurse on duty at camp. 
You will need to indicate the camper's medication on the medical form, and at the time of drop off, you will submit all medications to the medication station. All medications must be in their original pharmacy container along with written instructions, all in a Ziploc plastic bag with the camper's name printed on it. (PLEASE NOTE: if medications are not in the original container, the camp cannot administer them.)
Yes. If your student has special dietary needs, please contact Forest Home's Food Service department for assistance. Robin Macharelli is the Secretary of the Food Service department. She can be reached at robinm@foresthome.org and at 909-389-2271. Forest Home asks that all dietary accommodation requests be made as soon as possible and no later than two weeks prior to camp.
Yes, we will email the packing list to all registered families once registration is completed.
FOREST HOME IS GOING CASHLESS FOR 2021.
Children's Camp (Wild Rock) will utilize a prepaid store account system during the summer camp sessions. If your child is attending Wild Rock (Kids Camp) you will want to put funds in his/her store account. We suggest starting with approximately $20, and then add supplemental funds to the account if necessary. You will receive an email when the balance gets down to $5. Please have a conversation with your child prior to camp about budgeting, your plan to replenish funds (or not), what is okay to purchase, etc. The funds are loaded, electronically onto your child's wristband when they arrive at check in. They only need to swipe their wristband to make purchases.
LOADING MONEY INTO THE PREPAID STORE ACCOUNT
To find the tab to set up, and manage the store account:
• Log into your online account at www.foresthome.org and locate the Registration's page.
• Locate your camper's itinerary
• Click on the Store Card tab. Click on this tab to add funds, as well as view the itemized purchases that your child makes while at camp.
***ONLY KIDS CAMP WILL USE THE PREPAID WRISTBAND SYSTEM***
Youth Camp will make all retail purchases by either using a credit, debit or an eGift Card (may be purchased at
foresthome.org).
Yes! You can access them through your Forest Home account.